Recognising that the rates of suicides  in Goa is a disturbing issue with it being amongst the number one causes of death among young people aged 15-29 years,  COOJ launched the Suicide Prevention Program in 2012. The national rate of suicide is 11.4 per lakh population whilst in Goa it is 15.8. The components of this program are many but presently we are focusing on awareness, access to care through both a helpline and an email befriending service, training people to become better responders to a suicidal crisis as well as building a network of partners.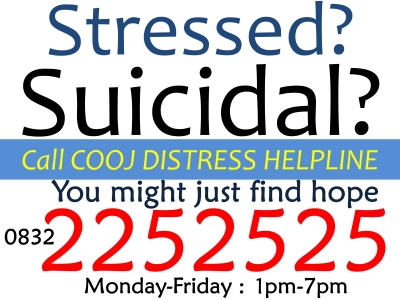 Helpline Info
You can get in touch with us on our E-counseling Email –  youmatterbycooj@gmail.com
Our helpline timings: Monday – Friday (1:00 pm to 7:00 pm).
You can also call on 9075391756 for inquires.