Go Yellow Campaign
September 10, 2018

-

October 10, 2018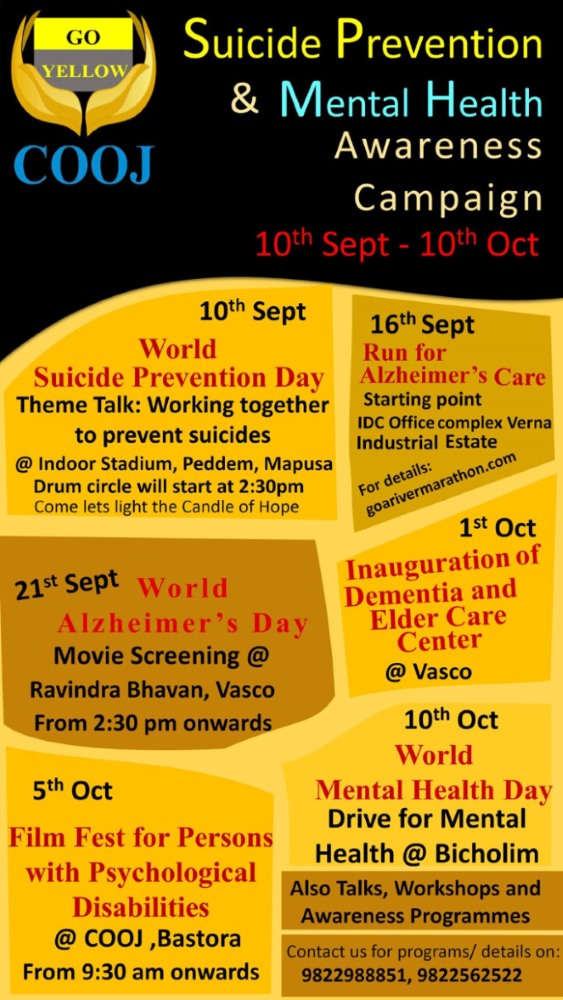 In an ongoing effort to spread awareness that suicides are preventable, the Go Yellow Campaign is being organised by COOJ which begins from 10th September 2018, World Suicide Prevention Day and ends on 10th October 2018, World Mental Health Day.
The main aim of the campaign is to create awareness that suicide is a preventable condition, educate on the various mental health issues, make aware the sources of help and to train groups of people on basic intervention.
The details of events is as follows:
10th September:
Partnered with Directorate of Sports and Youth Affairs to observe World Suicide Prevention Day. Programme includes talk on the WHO Theme Talk: Working together to prevent suicides, a memorial service which includes Lighting of the Candle of Hope. The event will begin with Drum Circle at Indoor stadium, Peddem, Mapusa, Goa
16th September:
Partnered with Vasco Sports Club. Lets' Run for Alzheimer Care. Register at https://goarivermarathon.com for FREE!!
21st September:
Leading up to World Alzheimer's Day on the 21st of September, we will be spreading awareness on dementia and geriatric mental health through Films.
1st October:
Inauguration of Senior Citizen Centre, Vasco, Goa
5th October:
Film Fest "Life skills on Communication" for Persons with Psychological Disabilities at COOJ, Bastora, Goa.
10th October:
On World Mental Health Day – Join us for the Drive for Mental Health to spread awareness from Mapusa to Bhicholim, Goa.